The holiday's are fast approaching, and I had a flash back to the movie Love Actually and the song "Love is all around you". I feel the need to change the first word here (Math = Love?) , since many Christmas decorations show a remarkable amount of geometry to them.

I went to this wonderful tree lighting ceremony and cookie party at W&L and was completely distracted by both the amount of sugar available (cookies, cupcakes, brittle, candy, cider, hot chocolate, …) and the fabulous decorations. These included the stellated star (above) and the fabulous minimal surfaces created by stretching fabric between a table top and it's legs. The red lighting just added extra pizzazz.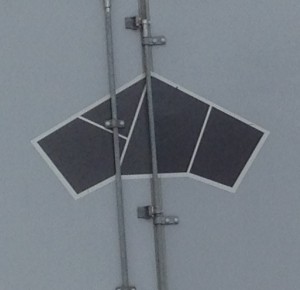 I've also seen a lot of knots out there in the real world. My favorite is this folded trefoil knot on the back of a truck. Exactly the kinds of knots I've been researching with my undergraduate students.

One of my friends I knit with has the best earrings – nice and knotty! Fun way to be festive at this time of year. (She's a graphic designer, so was greatly amused at my need to take a picture of her earrings!) I believe that this earring is a true lover's knot.